Link to article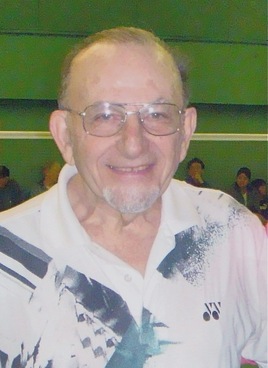 USA Badminton was deeply saddened by the passing of life-long competitor and supporter 83-year-old Jim Bosco (Santa Cruz, Calif.) who succumbed to a massive heart attack while finishing his singles match in the 80+ division at the 2011 USA Badminton Senior National Championships in Raleigh/Durham, NC on March 24th, 2011.
Born on October 5, 1927, James S. Bosco was active all of his life.  He was a well-respected college professor, retiring from full-time teaching at Sacramento State University in 1995.  He had a doctorate in Exercise Science and was considered by his academic peers as a pioneer in the sciences behind exercising.  Jim was always a vocal advocate of the importance of health science.
Jim was a passionate man.  He was passionate about his profession; passionate about his wife of 56 years, Mariana, passionate about his son, three grandchildren and two great grandchildren; passionate about his friends; and passionate about the sport of badminton, which he played religiously all of his life and all over the world.
Besides the numerous and continuous gold medals he won at USA Badminton Senior National Championships, Jim added international gold medals as well.  In October 2009 he won the gold medal for the 80-84 age group at the Senior World Masters in Sydney, Australia.  In an article published in The State Hornet, the school newspaper for Sacramento State University on February 10, 2010, he stated his desire to return and compete in the 2013 Senior World Masters in Turin (Torino), Italy to defend his gold medal.  The trip had more significance to Jim than just a competition though.  As an Italian-American, he saw the event as an opportunity to visit the homeland of his family and "look up some relatives."
Jim Bosco will not have the opportunity to defend his Senior World Masters gold medal, but he leaves a legacy greater than all the medals he won.  His love of life and the passion he had for life, his wife, family, friends, profession and the sport of badminton will live on in all who had the pleasure of knowing him and even more so for those that had the opportunity to play with him on the badminton court