INAUGURAL AMERICAS MASTERS GAMES A BIG HIT!
By Mary Ann Bowles
Wait a minute!  The inaugural Americas Masters Games were held in Vancouver at summer's end, and the badminton event provided matches involving Canada's Olympian Anna Rice and Indonesia/USA's Olympic and World Champion Tony Gunawan.  Besides those amazing athletes, there were 237 participants from 15 countries on court for 8 days of team and individual competition.  Not a bad way to spend a summer week in one of the most spectacular cities in Canada!
The first edition of the Americas Masters Games was an extension of the existing World Masters Games for whom some badminton players are well acquainted, having participated in many of these quadrennial sports competitions in the past.  The European Masters Games have been ongoing in Europe for a little more than a decade, and now the multi-sport Games have come to the Americas.  For athletes over 30, the Games in Vancouver consisted of 20 sports from archery to badminton to basketball to soccer to swimming to tennis and volleyball among others.


The venue for the badminton competition was the Vancouver Convention Centre West, located downtown on the bay with commanding views of the Canadian Rockies north of Vancouver.  Twelve courts had been set up on the ground floor, sport court surface with the portable mat courts atop. Dark blue pipe and drape surrounded the courts, so visibility was fairly good for the most part.  The first two days of competition comprised the team event with 25 teams in age groups from 30 to 65.  A team needed to have a minimum of 3 male and 3 female players, and the teams in each age group played the other teams in their group during the two days in a tie (a tie was either 4 or 5 matches per team competition including men's doubles, women's doubles, and mixed doubles).
U.S. players competing on teams included Tony Gunawan playing on the MUSICA Team Best in the Team Event 30+.  His team included 7 Indonesians and Canadians, and they took the gold in their age group. In the Team Event 45+, the Game of Birds team took 4th place with U.S. team member Garth D'Abreu on that team.  The CaliOhio team played in the Team Event 55+, and that team (taking fourth in their age group) included U.S. players Yoon Liang Goh, McKinley Tac Vuong, Steven Ye, John Yong, Kit Chiu, Cindy Guan, and Wai Lun from California and Ohio.
Team Event 65+ included three teams with U.S. players on them.  The Young Ones, including Ike Abassi, Mary Blandino, Sheena Fischer, Connie Lee, and Rose Suprenant, took fourth in their age group.  The Aussie Flypower, winning a bronze medal, included Americans Liz Parker and Beth Sopka.  And the gold medal winners, Team Tenacity, included David Carton, Mary Ann Bowles, and Andrea Weiss along with five Canadians.
Presentation of team medals was scheduled at the end of the second day of team play.  On hand for medal presentations were famed former Canadian champions and the CEO of the Badminton World Federation, Paul Erik Hoyer Larsen.  What a thrill for all the players to have him on hand, and for this writer a special treat because I had seen him win the gold in the Atlanta Olympics twenty years ago in 1996 as a linejudge!


Following the team event, individual events were held for 6 days in age groups 35 through 75.  The U.S. had 11 women and 13 men participating in these events.  Kudos to the female medal winners including:
Connie Lee – 1 gold (75XD with Anthony Fong [ AUS]), and 1 bronze (70WD with Pat Davison [CAN])
Mary Ann Bowles – 2 silver (60XD with William Metcalfe [CAN], and 65WD with Andrea Weiss [USA])
Andrea Weiss – 2 silver (65WS, and 65WD with Mary Ann Bowles [USA])
Helen Roome – 1 silver (55XD with Geoff Stensland [USA], and 1 bronze (55WD with Nivedita Chitale [AUS])
Mary Blandino – 1 silver (70WD with Jenny Goodwyn [AUS])
Cindy Guan – 1 bronze (60WD with Susan Smith [AUS])
Beth Sopka – 1 bronze (65WS)
Other U.S. players included Kit Chiu, Sheena Fischer, Liz Parker, and Sandra Matthieu.
Male medal winners included:
Tony Gunawan – 2 golds (35 and 40MD with Effendy Widjaja [INA])
Yoon Liang Goh – 1 gold (55MS)
Geoff Stensland – 3 silver (50MD with Reed Sumida [CAN]; 55MD with Marc Petreman [CAN]; and 55XD with Helen Roome [USA])
Garth D'Abreu – 1 silver (50XD with Virginia Chariandy Balwant [TRI]) and 1 bronze (45MD with Ian Assing [CAN])
Roberto Lee – 1 silver (75MD with Soi Wah Lum [SIN]), and 1 bronze [75XD with Sandra Matthieu [USA])
Ike Abassi – 3 bronze (70MS; 70MD with Ron Jordan [CAN]; and 70XD with Mary Blandino [USA])
David Carton – 1 bronze (65MS)
Other U.S. players included Chee Kong Lai, Wai Hing Lun, Wee Tam, McKinley Tac Vuong, Steven Ye, and John Yong.
Similar to the Olympics, the Americas Masters Games scheduled Opening Ceremonies and an Athlete's March to open the Games, and Closing Ceremonies at the end of the competition.  A Celebration Site downtown on the waterfront by the convention centre featured free daily and nightly events for all ages.  Stunning medals for the top three athletes or teams in each event were presented following competitions, and local volunteers showered the athletes and their families and friends with wonderful Canadian hospitality.
Congratulations to all the badminton participants and medal winners.  A big thank you to the city of Vancouver for wonderful summer weather, some even called it "hot!"  Kudos to all the sponsors who supported the Games, and made the week a most memorable one.  It was a week of great badminton play, renewal of friendships, and new ones made.  Stay tuned for another Americas Masters Games in the future!
---
FAREWELL TO DICK WITTE
By Mary Ann Bowles
Dick Witte, longtime badminton champion and legend in the U.S. and Canada, passed away on October 10, 2016, in St. Louis, Missouri, at 91.  A memorial service was held on October 27 at St. Clement of Rome Catholic Church.


Dick began his badminton career in 1938 when he was 13.  He was a long-time member of the St. Louis Badminton Club where he honed his skills with other local players Harold Thomas, Ted Moehlmann, Wes Finke, Ed McSweeney, and Ernie Trova.   He won his first senior national Men's Doubles title in 1976 when he won the 50MD title with Harold Thomas.  He went on to win thirty national Men's Doubles titles in the U.S. with partners Thomas, Tom Carmody, Ed McSweeney, Hank Andersohn, Jack Harvey, Ted Moehlmann, and James Bosco.
Dick won his first senior national Mixed Doubles title in 1979 with Kelly Tibbetts, winning 50XD.  He went on to win ten more titles with partners Tibbetts, Lee Calvert, Virginia Smith, Joyce Jones, and Glafyra Ennis.  Witte was also a regular at the annual Canadian Masters tournament, and he bagged many a medal there in 34 years of attendance.
Every player who knew Dick has special memories of him.  Mine include:
Wing span on court—he was tall and could reach anything!
Great server—his flick serve was always spot on!
Love of the game and always fair with line calls
Great sense of humor—his comic skits at tournament dinners were hilarious!
Generous with his coaching advice for beginners, or anyone
Generous with his compliments when a player showed improvement
When I first arrived in St. Louis in 1977, Dick and Harold Thomas were just beginning to win national titles.  That was quite an inspiration for me!  Then fifteen years later when I started playing in senior national tournaments, there he was, still winning national titles.  He used to joke with me that if I started winning more medals at tournaments than he did, he would have to consider retirement.  That comment inspired me even more!
When I was Secretary of the Midwest Badminton Association and editing the Flick newsletter, I was looking for article donations.  Dick offered to write an article or two, but he was a great cartoon artist, and he contributed badminton cartoons for about five years for that newsletter.  Everyone enjoyed those silly cartoons and badminton inventions he came up with!
When my husband and I hosted the 1994 Olympic Festival in St. Louis, Dick was one of the volunteers who umpired for us over a week of the worst heat and humidity in a July summer we had in many years.  And when I took the office of Secretary of the U.S. Badminton Education Foundation, who should be on the board contributing his ideas on raising funds but Dick Witte!  His footprints were big, and they will be hard to fill.  Dick's family encouraged mourners to support the charity of their choice, and if you feel the USBEF could be that choice, donations can be made in memory of Dick Witte to the USBEF at the address below:
Beth Sopka, Treasurer
United States Badminton Education Foundation
519 Harrison Ave, Unit D419
Boston, MA 02118
Thanks, Dick, for making us laugh, and showing us how to enjoy this sport for which you had such a passion.  Thanks for all the humor you shared with us—all the cartoons you drew, all the jokes you told.  If a player was having a bad day on court, Dick would often say, "Maybe you should think of taking up Parcheesi?"  That was the Dick Witte we'll all miss.
---
WHAT KIND OF BIRD IS THIS?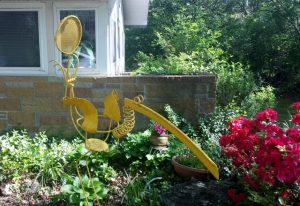 The pictured "bird" was given to Dick Witte on his 80th birthday, made by a friend.  It was located in a flowerbed at Dick's home where this photo was taken.  This past summer, the whimsical "bird" was given to another badminton fanatic, and is now located in Miramiquoa Park outside Sullivan, Missouri, (just outside St. Louis) in a small copse of trees.  In the evenings it's a great backdrop for the parade of deer that eat the new owner's grass.  Dick would love it!
---
PLAYERS MOURN PASSING OF IMRE BEREKNYEI
Top master Californian player Imre Bereknyei passed away on July 8, 2016.  Imre won many medals over his long playing career, and he was a pleasure to watch on court.  A Celebration of Life was held Saturday, November 12, 2016, in Orinda, CA.
He was a legend and will be missed.
---
UMPIRING AT THE 2016 THAILAND OPEN
By David Carton
The  USA Badminton COAG or Court Officials Advisory Group has been interested in developing umpire exchange programs with different countries that have similar tournament levels for some time, and had developed regular exchanges with Germany, the Netherlands, Switzerland, and Canada. We have desired to establish exchanges with our Asian and Oceanic neighbors,  and occasionally have experienced those. This year we received positive news from Thailand and so elected to start an exchange of officials which we hop
e will be rewarding and long lasting. I was the lucky one selected by COAG this year to start the exchange and am honored and humbled by the choice.
After the appointment was made at the beginning of the year, and contact was made with the Thai badminton group which included Paisan Rangsikitpho who was to be the 2016 Thailand Open tournament director, I went about determining what a reasonable cost for the flight would be. Surprisingly I found a flight on May 31 for the flight in early October for a cost of around $900 and booked it!
As time passed, I had multiple communications with the tournament director regarding pick-up from the airport, whether tournament shirts would be provided for the umpires, and other assorted details that needed answering prior to getting on the plane. Eventually time passed, and it was time to board the plane on Thursday evening at 7:30 PM September 29. After several transfers, one in San Francisco and another in Taipei, we (my wife accompanied me on the trip) arrived around 11:30 AM October 1. My ticket says that the travel time was 18 hours and 35 minutes with 7 hours and 15 minutes of layover time, but it seemed like more. We wandered a bit through the airport after passing through customs and found our airport pickup coordinator who promptly arranged a driver to take us to the tournament hotel. Another 45 minutes and we were checking in at the Siam@Siam hotel in downtown Bangkok. We thought about checking out the hotel and surrounding area but sleep overtook us and we slept until early the next morning.
Sunday morning, October 2, we enjoyed the breakfast buffet and then walked down the street to find a Tesco Lotus shopping center which was a multi-story building filled with all sorts of eateries and shops of every kind. Following this, we went back toward the hotel and then across the street found the venue for the tournament which was being held at Nimibutr Stadium, a facility similar to the Honda Center in Orange County where the 2005 World Championships were held. To say that it was nice to have the site of the tournament across the street from the hotel is quite an understatement. They had just begun the set-up for the event so after meeting some of the organizing staff members we went back to the hotel to continue acclimating for the jet-lag.
Monday morning, October 3, my wife and I took the skytrain which had a station close to the hotel, traveled across town to where it intersected with the Chao Phray River, and then took a boat upstream where we disembarked to start a tour of the Grand Palace. Stunning and
marvelous are a few of the adjectives one could use to describe this area. If it hadn't been for the heat of the day, we would have liked to stay longer, but after a number of hours we decided to retrace our journey and ended up back at the hotel where I prepared for the umpire briefing to be held that evening. Here I met with all the other 16 umpires, referees, and Paisan and learned what to expect over the coming week.
Tuesday morning we arrived at the hall at 8 AM with matches to start at 9. There was no briefing today as the evening session the previous day was enough information. We were divided into groups of four by the referees and worked the entire day as two on followed by two off, so we worked with the same person on the same court. Food was brought in for lunch and dinner and consisted of rice or noodles with either vegetables or meat and some with spice and some without. The food throughout the event was tasty and more than adequate.  As chance would have it I had the dubious honor of umpiring the last match of the day which ended at 12:30 AM.
Wednesday morning arrived early after the late night with matches again starting at 9 and the briefing at 8:15. The primary comment by the referees this morning was that it was taking too long to start the matches after doing the toss. They wanted "Love all play" to be said no more than two minutes after the toss. Of course this led to adjustments in time allowed to the players to warm up basically giving them not much more than a minute as it always takes time after they finish their hitting to get ready to serve. If this is what the referees wanted, this is what they got. Play ended this evening a bit earlier with the last match ending around 11:30 PM.
Thursday we had our first late day with a 3 PM start. The local umpire group arranged for us to go to a local restaurant that was relatively close by which specialized in crab and other seafood. We all got together around 11:45 for transport by autos to the mall where the restaurant was located. It was a great lunch with lots of variety and we were able to get back to the hotel in time to change and get to the hall for our briefing at 2:15.
Friday quarter final matches were to start again at 3 PM and the local umpire group had arranged for us to take a drive through the city followed by a boat ride out to the bay, and then lunch at another seafood restaurant. We left the hotel at 7:20 AM in two minibuses to drive through the city, and then out of town to an area where canals went out to the bay. We boarded the boat, which was long and thin and had a V-8 engine in the rear and a long propeller shaft which was the standard in the area, and traveled down the canal bounded by mangrove trees. Slowly the canal opened to the bay which was still quite shallow and seemed to have many bamboo fish pens.
We headed back after a brief stop at a restaurant at the bay's edge for some pictures, and after boarding the minibuses and going a ways down the highway, stopped at a fish restaurant at the side of the road. Here we had more varieties of fish and seafood than I can mention and all were quite sated after our stay here. We headed back to the city and returned in time for us to shower, change and attend the briefing at 2:15. Matches were good and allowed us to finish up by 11:00 PM.
Saturday semi-final matches were to begin at 1 PM with the briefing arranged for 11:45. Not really enough time to do anything so had a leisurely morning. I had one service judging duty which was on the second match being held on court 1, so after that concluded and having watched several other matches I went back to the hotel and as it turned out watched the final match of the day on TV, something we don't yet have in the U.S. I came down to the lobby and met up with a group of umpires who were gathering to head out to a local restaurant for Pad Thai. We all got into a car driven by our coordinator, Jitirut Thanuakarapat, who took us across town to this place that specializes in this dish. We all got in line past the chefs preparing these dishes, found a table or two and all downed this especial dish which was an omelet filled with angel hair pasta and shrimp.
After finishing we took a drive down a boulevard that had trees covered with lights and pictures of the Queen surrounded by flowers and lights to celebrate her birthday. From here we asked to be dropped close to a local street market area where a number of umpires wanted to explore and possibly purchase some gifts for home. After walking through the area we found a local pub where we enjoyed a beer or two and then went in search of a Tuk tuk to return to the hotel. The ride that ensued could be described as that of the Mad Hatter, but it was quite fun.
Sunday's final matches were also to begin at 1 PM with the briefing arranged again for 11:45. Again I had one service judging duty with this one on the final match of the tournament. I hung around the hall throughout the matches prior to the one I had been assigned, and said my good byes to those who had finished their duties. Finally it was my turn with David Schwerin from Austria who was the umpire. We finished up a nice MS match between the number 2 and 5 ranked players in the tournament with the Thai player coming out on top.
I would like to give my thanks to the Badminton Association of Thailand for holding the event and providing such good support to the technical officials from other countries as well as providing such friendship and hospitality while we were here. Also to the tournament director, Paisan Rangsikitpho, for his efforts in putting together such a great team to run this event, and as always his friendship and support in putting the initial exchange of umpires between Thailand and the U.S. on sound footing.
---
BIDDING ADIEU TO PLAYING–BUT NOT WATCHING!
By Mary Ann Bowles
Fifty years of playing, and my body was complaining—back issues, knee issues,
and then a fall and broken wrist brought it all into perspective.  By the time the wrist was surgically repaired and on the mend, the realization sunk in that training and playing this demanding sport was not something I could continue to do with the pleasure, abandon, and determination I had mustered for so many years.  It was time to hang up the racket!
It all started at Louisiana Tech University in the late 60's when I took a badminton class.  The professor took four of us to a "real" badminton tournament in New Orleans, and there were Jim Poole and Don Paup, U.S. Men's Doubles champions, playing in the tournament.  For me, this was a whole new look at a sport most people had never seen.  That took me to the La. Tech University Women's Badminton team for the next three years, and then a few years of looking for tournament badminton in Tennessee and Florida before I moved to St. Louis.  The St. Louis Badminton Club just happened to be handy, and my husband even took up the sport before he became a badminton coach.
We traveled the Midwest and South for more than thirty years playing in tournaments, and being active in the Midwest Badminton Association.  Those travels took us to Chicago and Bloomington-Normal, Illinois; Kalamazoo, Ann Arbor, and Benton Harbor, Michigan;  Dayton and Sandusky, Ohio; Indianapolis, Indiana; Louisville, Kentucky; Omaha, Nebraska; Kansas City, Kansas; Madison and Milwaukee, Wisconsin; Minneapolis and St. Paul, Minnesota; Memphis and Nashville, Tennessee; Shreveport, Louisiana;  Magnolia, Arkansas; and Ponca City, Oklahoma.
By the late 80's, I was beginning to play in senior tournaments, and my skill level had improved so that I could enjoy senior level play, and begin to be competitive in my age group.  It took another decade before I could enjoy much improved play and begin to find partners who were willing to play with me on a national level.  Those senior national tournaments also gave me the opportunity to travel the country from Portland to Seattle to Manhattan Beach to San Diego; Washington, D.C.; Shreveport, Louisiana; Raleigh, North Carolina; Boston, Massachusetts; Colorado Springs, Colorado; Tucson, Arizona; and Miami Lakes, Florida.    And in the last five years of my career, my Women's Doubles partner, Andrea Weiss, invited me to play in Canada, and that included deluxe clubs in Vancouver, Edmonton, Toronto, and Halifax.
There are so many partners to thank, especially the last and best ones I had—Andrea Weiss, Curt Dommeyer, and Bob Cook.  On the regional level, Len
Williams was the one of the best left-handed mixed doubles partner I ever had.  The other was Jim Meier with whom we defeated Andy Chong on two occasions.  Two favorite tournaments I enjoyed—the international senior tournament in Miami Lakes, and the annual tournament held in Omaha, NE, at Offutt Air Force Base.  The courts and accommodations in Miami Lakes are hard to beat—it's a first class place to play and stay.  And the tournament is always well run and fun to play in—those international players, especially the Canadians, will give you a run for your money.
The Ray Scott tournament in Omaha was a unique tournament because you had the opportunity to go on the air base and play in a remodeled hangar.  There were plenty of courts, nice wood floors, and classy locker rooms downstairs below the courts.  On one occasion, we were treated to a tour of the base with a trip down into the underground headquarters (where President George Bush went during the 911 terrorist attacks) several years before the attacks occurred.  And to be able to see and hear a B-52 bomber take off and land on the air base right next to the hangar was a thrill to behold.
So the memories of playing abound–the nice badminton clubs, the high school and university gymnasiums, the recreation centers, an oil company gymnasium, and the U.S. Olympic Training Center.  Opponents ranged from high school and college-age women to seasoned players and coaches to former national champions to self-taught fanatics who were so interesting to watch, and made you work much harder than you expected.
It's the end of the line for the demands of this sport, but the viewing will continue, and, oh, how that has improved over the years.  To see some of the best players 50 years ago, you had to be courtside, and that's just where I was in Natchitoches, LA, in the spring of 1969 at the U.S. Open watching international players from Indonesia, Malaysia, Denmark, and Sweden, among other countries–you could buy a ticket for $1!  Then it was courtside at the 1996 Olympics in Atlanta—my ticket was a line-judging job—and it was a dream come true to see Indonesians Susi Susanti and Mia Audina, Dane Paul Erik Hoyer-Larsen, and Koreans Park Joo Bong and Kim Dong Moon in action and winning medals.
Flash forward to the 2005 IBF World Championships in Anaheim where Howard Bach and Tony Guanwan made believers of all of us with their daring run to the gold in Men's Doubles.  And then to Birmingham, England, this year to see the 2016 All-England Championships with the likes of      Nozomi Okuhara, Carolina Marin, Li Xuerui, Lin Dan, Chen Long, Chris and Gabby Adcock,    Kamilla Rytter Juhl and Christinna Pedersen, and Vladimir Ivanov and Ivan Sozonov. Oh, my!  Another dream come true!
Now, thanks to the BWF and You Tube, a player or spectator can pull up the quarterfinals and up of any Super Series tournament or premier event live streamed or viewed later using your phone! You can watch top international badminton to your heart's content 24 hours a day if you like.  Wow!  So that's my plan for the future—to enjoy watching the top players as they ply their skills around the world chasing those rankings and wins in these top tournaments.  The watching won't be as healthy as that exercise I got on court, but the playing will continue to amaze me with the footwork, deception, fitness, and sheer determination to be the best.  And a trip annually to a Super Series tournament is a possibility—being there in person is the best way to get that "badminton high" with your spine tingling and your eyes validating the unbelievable skills of the world's best players.
Thanks to all those I've met and competed with and against in the past 50 years.  I'll miss the players, the personalities, the tournament play, and the camaraderie.  Best wishes to all of you still on court—I admire your fitness and skill and the pluckiness to still be there.  And when you retire, come and join me for the watching—heaven on earth is available, thanks to wi-fi and man's ingenuity.  You can't do better than that for this fan-atic!
---
Growing Response…
By Andrea Weiss
"Turn! Turn! Turn! To everything there is a season," and badminton seems to have taken on a life of its own in both St George, Utah, and in Las Vegas, Nevada. This year players came out and enjoyed, in record numbers, two consecutive tournaments from October 7-9 by both players from our Canadian neighbors and the United States.
According to Nedra Pascal, who has been at the helm of the Nevada Senior Games Badminton tournament, this year welcomed the most successful attendance ever. That could not have happened at a better time as The Huntsman World Games celebrated its 30th year since the inception of the event in 1987.
The weekend began with the Huntsman tournament on October 7-8 under the direction of Doug Jensen and his cohort team, Laurie Goulding and Jim Swayden. A dinner/banquet replete with a nicely considered awards ceremony brought closure to the event. Then, off to Las Vegas, Nevada, on Sunday, October 9, as "badminton caravaners" made their trek for another day of sheer joy and reconnection for the Nevada Senior Games.
Results are listed below:
2016 HUNTSMAN WORLD SENIOR GAMES
BADMINTON SINGLES – WOMEN
50-54 Women
Gold – Jacqueline Myers (CA)
55-59 Women
Gold – Barbara Heaney (CAN)
Silver – Wendy Barrow-Smith (BAR)
60-64 Women
Gold – Marian Holo0boff (CAN)
Silver – Lynne Burns (CAN)
Bronze – Marsha Morris (AZ)
65-69 Women
Gold – Andrea Weiss (NM)
Silver – Patty Riddle (CA)
70-74 Women
Gold – Julie Bradley (FL)
Silver – Mary Blandino (WI)
Bronze – Lorna Hunter (AZ)
75-79 Women
Gold – Margot Hurst (AZ)
Silver – Elsie Wilson (LA)
BADMINTON SINGLES – MEN
50-54 Men
Gold – Henry Paynter (CAN)
Silver – Douglas Towne (AZ)
Bronze – Marshall Kano (UT)
55-59 Men
Gold – Hans Albertsen (UT)
Silver – Jim Swaydan (UT)
Bronze – Roger Goettl (AZ)
60-64 Men
Gold – Pedro Garcia Flores (CA)
Silver – Russell Okuno (CA)
Bronze – Michael Hilliard (AZ)
65-69 Men
Gold – Wayne Fullerton (CAN)
Silver – Dennis Sullivan (AZ)
Bronze – Terry Dutton (CA)
70-74 Men
Gold – Stanley Boyd (NM)
Silver – Murray Foubister (CAN)
Bronze – Edward Wicks (CAN)
75-79 Men
Gold – Jeff Fishback (CA)
Silver – Robin Lyons (CA)
Bronze – Gene Huffty (TX)
80-84 Men
Gold – Gene Fradella (UT)
WOMEN'S DOUBLES
50-54 Women
Gold – Barbara Heaney/Clara Wai (CAN)
Silver – Jacqueline Myers (CA)/Cathy Johnston (CAN)
55-59 Women
Gold – Wendy Barrow-Smith (BAR)/Andrea Weiss (NM)
60-64 Women
Gold – Lynne Burns/Marian Holoboff (CAN)
Silver – Barbara Biggs (CAN)/Marsha Morris (AZ)
Bronze – Vira Glaskova (WA)/Roberta Melis (UT)
65-69 Women
Gold – Mary Blandino (WI)/Andrea Weiss (NM)
Silver – Anne Henderson/Pat Kirk (CAN)
70-74 Women
Gold – Julie Bradley (FL)/Liz Parker (WA)
Silver – Lorna Hunter/Margot Hurst (AZ)
Bronze – Alice Tym (TN)/Rose Suprenant (CO)
75-79 Women
Gold – Elsie Wilson (LA)/Hazel Morgan (NM)
Silver – Sandra Matthieu (LA)/Jessie Rogers (CAN)
MEN'S DOUBLES
50-54 Men
Gold – Douglas Towne (AZ)/Xintao He (PA)
Silver – Hans Albertsen/Jinggui Geng (UT)
Bronze – Sergei Kolesnikov (NY)/Marshall Kano (UT)
55-59 Men
Gold – Roger Goettl/Michael Hilliard (AZ)
Silver – Jim Swaydan (UT)/Dennis Jutzi (CAN)
60-64 Men
Gold – Ted Biggs/Henry Paynter (CAN)
Silver – Pedro Garcia Flores/Russell Okuno (CA)
Bronze – Dennis Brown/Frank Price (CAN)
65-69 Men
Gold – Dennis Sullivan (AZ)/Edward Wicks (CAN)
Silver – Wayne Fullerton/Marvin Paxman (CAN)
70-74 Men
Gold – Stanley Boyd (NM)/Grant Taggard (CO)
Silver – Peter Eltgroth (CA)/Murray Foubister (CAN)
75-79 Men
Gold – Jeff Fishback/Robin Lyons (CA)
Silver – Gene Huffty (TX)/Roberto Lee (VA)
Bronze – Norman C arruthers (CAN)/Phil Brunner (AZ)
MIXED DOUBLES
50-54
Gold – Frank Price/Clara Wai (CAN)
Silver –Douglas Towne/Marsha Morris (AZ)
Bronze – Pedro Garcia Flores/Jacqueline Myers (CA)
55-59
Gold – Henry Paynter/Barbara Heaney (CAN)
Silver – Xintao He (PA)/Cathy Johnston (CAN)
Bronze – Jim Swaydan (UT)/Liz Parker (WA)
60-64
Gold – Michael Hilliard (AZ)/Carolyn Hoefer (CA)
Silver – Ted Biggs/Barbara Biggs (CAN)
Bronze – Wayne Fullerton/Lynne Burns (CAN)
65-69
Gold – Stanley Boyd/Andrea Weiss (NM)
Silver – Murray Foubister/Pat Kirk (CAN)
Bronze – Dennis Sullivan (AZ)/Cindy Simpson (CAN)
70-74
Gold – Grant Taggard (CO)/Hazel Morgan (NM)
Silver – Jeff Fishback/Karen Fishback (CA)
Bronze – Robin Lyons (CA)/Alice Tym (TN)
75-79
Gold – Gene Huffty (TX)/Elsie Wilson (LA)
Silver – Peter Eltgroth (CA)/Connie Lee (OR)
Bronze – Phil Brunner/Margot Hurst (AZ)
2016 BADMINTON RESULTS NEVADA SENIOR GAMES
WOMEN'S SINGLES
50-54
1 – Jacky Myers
55-59
1 – Barbara Heaney
60-64
1 – Barb Biggs
65-69
1 – Andrea Weiss
2 – Debbie Lorenzo
70-74
1 – Cindy Simpson
2 – Lorna Hunter
75-79
1 – Margot Hurst
2 – Nedra Paschal
MEN'S SINGLES
50-54
1- Doug Towne
55-59
1 – Roger Goettl
60-64
1 – Russell Okuno
2 – Pedro Garcia Flores
3 – Michael Hilliard
65-69
1 – Henry Paynter
2 – Dennis Sullivan
70-74
1 – Rama Menon
2 – Stan Boyd
3 – Murray Foubister
75-79
1 – Robin Lyons
2 – Pete Eltgroth
3 – James Ho
4 – Phil Brunner
WOMEN'S DOUBLES
50-54
1 – Jacky Myers/Cindy Simpson
55-59
1 – Barb Biggs/Barbara Heaney
60-64
1 – Carolyn Hoefer/Debbie Lorenzo
2 – Sandra Matthieu/Marsha Morris
65-69
1 – Andrea Weiss/Nedra Paschal
70-74
1 – Alice Tym/Mary Blandino
2 – Lorna Hunter/Margot Hurst
3 – Karen Fishback/Connie Lee
75-79
1 – Hanniah Morgan/Elsie Wilson
MEN'S DOUBLES
50-54
1 – Vong Lovan/Jack Min Ng
2 – Terence Way/Doug Towne
55-59
1 – Roger Goettl/Michael Hilliard
60-64
1 – Tedd Biggs/Henry Paynter
2 – Pedro Garcia/Russell Okuno
65-69
1 – Wayne Fullerton/Dennis Sullivan
70-74
1 – Rama Menon/Stan Boyd
2 – Murray Foubister/Pete Eltgroth
75-79
1 – Jeff Fishback/Robin Lyons
2 – James Ho/Gene Huffty
3 – Phil Brunner/Roberto Lee
MIXED DOUBLES
50-54
1 – Pedro Garcia/Jacky Myers
2 – Doug Towne/Marsha Morris
3 – Terence Way/Debbie Lorenzo
55-59
1 – Henry Paynter/Barbara Heaney
2 – Jack Ng/Mary Blandino
60-64
1 – Michael Hilliard/Carolyn Hoefer
2 – Ted Biggs/Barb Biggs
3 – Wayne Fullerton/Lynne Burns
4 – Russell Okuno/Sandra Matthieu
65-69
1 – Stan Boyd/Andrea Weiss
2 – Dennis Sullivan/Cindy Simpson
70-74
1 – Rama Menon/Hanniah Morgan
2 – Jeff Fishback/Karen Fishback
3 – Robin Lyons/Alice Tym
4 – Murray Foubister/Lorna Hunter
75-79
1 – Gene Huffty/Elsie Wilson
2 – Pete Eltgroth/Connie Lee
3 – James Ho/Nedra Paschal
4 – Phil Brunner/Margot Hurst
---
WHAT IS THE USBEF?
The United States Badminton Education Foundation works in cooperation with the USAB (the governing body of United States Badminton) to promote the growth and support of Badminton throughout our country. The USBEF was incorporated in the State of Massachusetts in 1967 and its Board Members consist of Badminton Players who serve voluntarily to "put something back into Badminton".
OUR MISSION STATEMENT — To establish and promote throughout the United States an educational program  devoted to the development of Badminton as a means of healthful and physical fitness, to promote the recognition in schools, colleges, YMCA and other institutions with physical education programs of the carry-over benefits of Badminton, to give coaching and instructions to players throughout the U.S. Badminton in clinics and exhibitions which are in furtherance of educational objectives.
Board members include:
Dave Carton ([email protected]), President
Mary Ann Bowles ([email protected]), Secretary
Beth Sopka ([email protected]), Treasurer
Lisa Ward-Knechtel ([email protected])
Paisan Rangsikitpho ([email protected])
Website address: 
http://www.usbef.org
Facebook address: 
https://www.facebook.com/USBEF-138594542823290/